Vehicles
| | |
| --- | --- |
| Limousine | Cadillac |
| | |
---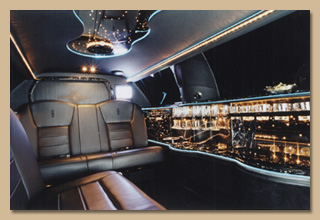 2001 Ford Lincoln 8 Passenger Stretch Limousine
Silver Exterior
Black Tuxedo Top
Exterior Blue Fluorescent Opera Lights
Reduced Rear Window
Charcoal Grey Leather Interior
3 Seat Configuration
Black Marble Bar
Fiber-Optic Points of Light
6 Color Neon Mood Lighting
Incandescent Mood Lighting
4 Speaker CD Stereo System
DVD Player
3 TV Screens
A Selection of Music and Movies
Extra Cellular Phone and Lap-Top Power Outlets
Hands-Free Intercom System
Privacy Divider
Binoculars
---
Download this picture for your desktop

Choose your size and then right-click
(Macintosh: ctrl-click) the image to download it
We're Ready For Anything
All of our vehicles have a special kit to solve those unexpected problems. Our kits contain:
First-Aid Kit
Ant-acid
Aspirin & Tylenol
Band-Aids
Buttons
Extra Bow Tie
Hand Lotion
Mints
Nylons, Panty Hose, Tampons
Safety Pins
Scissors
Sewing Kit
Umbrella
For your listening and viewing pleasure, we also carry a wide selection of music and movies.

Site design by Symmetriq.